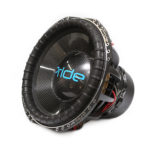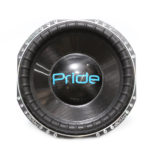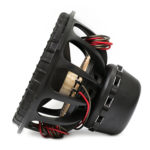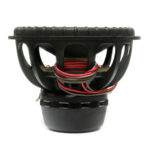 Subwoofer Pride UFO5 18v3 RMS 7500-10000 W Voice Coil – 5″
available
$

3,950.00
+ Free Shipping to 48 States
Free 30-day returns
Fast Free Shipment
1 year warranty
Visa/MasterCard/PayPall payment
Subwoofer Pride UFO5 18v3
The intersection of reality and fantasy, the desired and the possible. UFO.5 – equipment of championsUFO5  series subwoofer from Pride company. This version has become more powerful, louder and more reliable.
RMS – 7500-10000 W, Voice Coil – 5″.
A high-temperature 5-inch voice coil made of flat aluminum, with a powerful neodymium motor and an advanced cooling system, will provide high overload capacity and long-term operation at daily operating conditions of up to 10,000 W RMS.
The subwoofer is equipped with a carbon diffuser and cap, which will give lightness to the moving system and a cool appearance.
Technical feature
RMS
7500-10000 W
X Max (BL 50%)
42,5 mm (one way)
Re Ω
1,52 Ohms
Fs
19,83 Hz
Qts
0,14
Sd
1365 cm²
Vas
153 L
BL
42,2
Sens (1W/1m)
92,9 dB
Sens (2.83Vrms/1m)
100,9 dB
Impedance
0,7+0,7 Ohm
Physical feature
Magnet's material
High-quality neodym rings
Magnet's Diameter
262 mm
Magnet quantity
Neo
Magnet's weight
4,32 kg
Frame material
Aluminium
Spider
6 spider (8 spider optional)
Voice coil material
High Temperature Aluminum
Voice coil D
5 inch
Height Voice coil
76 mm
Mounting Depth
328 mm
Diameter of the mounting hole
431 mm