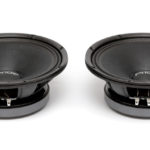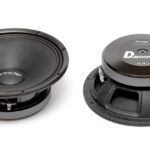 Speakers Pride Diamond 8
Out of stock
The Speakers of company Pride assembled by hand in Russia.
Loud pop speakers of the Diamond series from Pride.
Powerful ferrite magnetic system based on a premium magnet with a diameter of 145 mm. 45 mm high-temperature voice coil that easily holds a rated power of 275 watts.
High sensitivity with excellent sound in a wide frequency band.
Range of reproduced frequencies, Hz 125 – 8000
Max (Peak Power), W 550
RMS (rated power), W 275
Balanced sound, loud and high quality. Great voice and vocals. Like everyone.
Technical feature
RMS
275 W
Re Ω
3,3 Ohms
Sens (1W/1m)
95,9 dB
Sens (2.83Vrms/1m)
99,7 dB
Impedance
4 Ohm
Physical feature
Magnet's material
High-quality ferrite rings
Frame material
Steel
Voice coil material
copper-plated aluminum
Voice coil D
1,75 inch
Mounting Depth
81 mm
Diameter of the mounting hole
187 mm