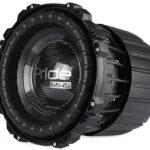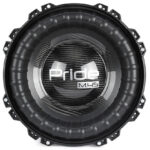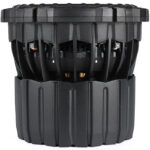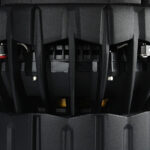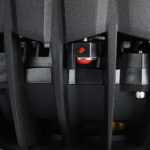 Subwoofer Pride M45.12 RMS 4500W Size 12″
available
Free 30-day returns
Fast Free Shipment
1 year warranty
Visa/MasterCard/PayPall payment
Subwoofer Pride M45.12
We present you subwoofer Pride M.45 12"  with carbon diffuser and cap.
A new era in the history of car audio is now in your hands. An aluminum frame, radiators and an updated cooling system provide maximum protection against overheating, which means the ability to sound long and loud. The subwoofers received a new magnetic system and our highly linear suspension – additional points in reliability and power. Enlarged centering washer with progressive corrugation shape. The shape of the diffuser made it possible to reduce the additional mass of the moving part and increase the area of ​​adhesive contacts, which provides even more strength under high loads.
Size – 12″, RMS – 4500 W.
The distinctive properties of our subwoofers are the high quality of the raw materials, their wear resistance and long service life, which means that your speaker system from Pride Car Audio will work properly for many years.
Please yourself with powerful bass, clear sound and reliable equipment with Pride Car Audio
Subwoofer available in theUSA
General feature
Power Handling (RMS)
4500 W
VC diameter / material
4" Flat aluminum
VC wire insulation
Polyimide
Frame material
Aluminum
Magnet size and q-ty
256*26mm x 3 pcs / 10,08*1,02" x 3 pcs
Spider diameter and q-ty
250mm x 6pcs / 9,84" x 6pcs
Cone material
Carbon (real)
Dust cap material
Carbon (real)
Parameters
DC Resistance (Re)
0,75+0,75 Ω
Free Air Resonance (Fs) Hz
27,1
Moving Mass (Mms) g
360
BL Tm
19,7
Total Speaker "Q" (Qts)
0,211
Electrical Q (Qes)
0,227
Mechanical Q (Qms)
3,77
Equivalent Compliance (Vas) L
37,2
One-Way Linear Excursion (Xmax) (BL 50%) mm
36
Sensitivity (1 W / 1 m) dB
87,1
Sensitivity (2,83 V / 1 m) dB
92,1
Effective Piston Area (Sd) cm²
530
Physical Specifications
Overall Diameter
325mm / 12,8"
Mounting Hole Diameter
307mm / 12,09"
Mounting Depth
260mm / 10,24"
Driver Displacement
6 l / 1,59 Gal
Net Weight
42 kg / 92,6 lbs