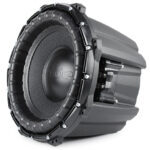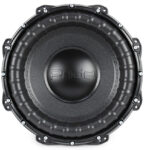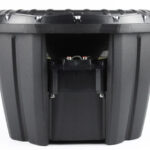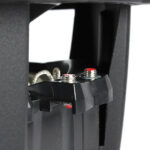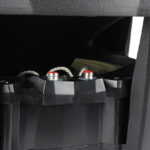 Subwoofer Pride M16.12 RMS 1600W Size 12″
available
Free 30-day returns
Fast Free Shipment
1 year warranty
Visa/MasterCard/PayPall payment
Subwoofer Pride M16.12
The Pride M.16.12 is a powerful and reliable car subwoofer designed using innovative technologies. Thanks to the modular design, subwoofer repair takes only a few minutes – just replace the damaged module. 
The M.16 has a power rating of 1600W and features a 12-inch coil that delivers powerful and deep bass. The special suspension design and cast radiator basket ensure effective cooling even during intensive use. Pride M.16 will be an excellent choice for true connoisseurs of high-quality sound in the car
Subwoofers manufactured by the leading company Pride stand out among their analogues with the following advantages:
Hot pressing of the washers and the use of woven material for the centering washers allows you to realize the full potential of the speaker under various operating conditions.
Automated gluing of magnetic systems to test the magnetic system according to all characteristics.
Special glue for each unit of the Pride acoustics allows for maximum strength and elasticity of the moving units.
Acoustic meshes are designed individually for the entire model range, therefore they effectively protect diffusers from mechanical damage
Please yourself with powerful bass, clear sound and reliable equipment with Pride Car Audio
General feature
Power Handling (RMS)
1600 W
VC diameter / material
3,2" round copper
VC wire insulation
Polyimide
Frame material
Aluminum
Magnet size and q-ty
190*25mm x 2 pcs / 7,48*0,98" x 2 pcs
Spider diameter and q-ty
230 mm x 4 pcs / 9,06" x 4 pcs
Cone material
Paper with glass fiber
Dust cap material
Hi-temp ABS
Parameters
DC Resistance (Re)
0,4 Ω
Free Air Resonance (Fs) Hz
26,8
Moving Mass (Mms) g
399
BL Tm
7,2
Total Speaker "Q" (Qts)
0,44
Electrical Q (Qes)
0,49
Mechanical Q (Qms)
4,74
Equivalent Compliance (Vas) L
34,8
One-Way Linear Excursion (Xmax) (BL 50%) mm
21
Sensitivity (1 W / 1 m) dB
83,7
Effective Piston Area (Sd) cm²
530
Physical Specifications
Overall Diameter
325mm / 12,8"
Mounting Hole Diameter
307,5mm / 12,11"
Mounting Depth
188mm / 7,4"
Driver Displacement
4 l / 1,06 Gal
Net Weight
13,3 kg / 29,32 lbs