Speakers Pride Diamond 10
$

290.00
+ Free Shipping to 48 States
available
Loud pop speakers Pride Diamond 10 ". Powerful ferrite magnetic system. 51 mm high-temperature voice coil that easily holds 400 watts rated power. High sensitivity with excellent sound in a wide frequency band.
The Speakers of company Pride assembled by hand in Russia.
Balanced sound, loud and high quality. Great voice and vocals. Like everyone.
---
Complete set of sales:
Diamond 10″ – 1 pairs
ABS Gasket 10″ – 2 pcs
Carton box
Technical feature
RMS
400 W
Re Ω
4 ohm
Frequency range
80 - 4000 Hz
Voice coil
2 "(50 mm)
Dimensions
25 cm (10 ")
Physical feature
Magnet's material
Ferrite
Mounting Depth:
94 mm
Mounting Diameter
238 mm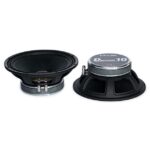 $

290.00
+ Free Shipping to 48 States